LA MESA HISTORY GEMS: Historical Stories from the Jewel of the Hills
Updated from articles published online in the La Mesa Patch on March 24 & March 26, 2011.
References to the 2010-11 Kawhi Leonard-led team have been replaced with our #6 ranked, 2019-20 MWC Championship team.
A Bit of Historical SDSU March Madness for Basketball Deprived 2020
Of course, there is no real substitute for not having our amazing 2019-20 SDSU Men's Basketball team provided the opportunity to have proven itself in this year's now-cancelled NCAA tournament.  
It still does give us a chance however to remember those long-ago days when San Diego State College was a powerhouse of the nation's small-college programs—and how their connection to some of our local "East San Diego and East County" boys made a huge contribution. 
Here is an updated version of the 2011 articles that hopefully will provide you with some distraction and warm feelings as we deal with our international public health challenges.
Handsome Coach Gross, Milky, Spook and the Story of the 1941 National Champion Aztecs' "Casaba-men" Part 1 of 2
Seventy-nine years ago, Coach Morris Gross' Aztecs Hoops Dynasty Brought March Madness, and a National Championship, to nearby Montezuma Mesa.
With the clock ticking down the final three and a half minutes of the deadlocked National Championship basketball game, the Aztecs fed the ball to their shortest starter, who slipped under the defense of the favored, and larger, opponents to score the tiebreaking basket.
After the stingy, ball-hawking Aztec defense forced a stop, the opponent pressured State's ball-handling All-American. The Aztec star player deftly dished the ball to the same quick but undersized hoopster who laid it up and in again.
The scenario repeated itself a third time in the last minute providing a six-point lead that the scarlet and white clad Aztecs held onto for the National Championship title.
For many Aztec basketball fans of Coach Brian Dutcher's marvelous 2019-20 season, this was a hoped-for dream ending for our #6 ranked, 30-2 team.
But in this case—the late game victory described above was not a dream.
What it is, in fact, is the true, and climatic, story of the first San Diego State basketball dynasty.
The 1941 National Association of Intercollegiate Basketball Champion Aztecs!
For most, the success story of Coach Morris H. Gross' San Diego State pre-World War II basketball program is unknown, or long-forgotten.
Luckily David Howard Fontius chronicled much of the SDSC basketball story in his 1976 master's thesis, A History of Basketball at San Diego State University 1921-1971. Fontius interviewed many of the key players and coaches from the early years of Aztec basketball.
One of these players, Harry Hodgetts, who this author interviewed at age 93 years young in 2011, clearly remembered Coach Gross and the three years that he participated in helping San Diego State shock the collegiate basketball world.
SDSC was still a small four-year school focused on teacher training in the pre-WWII era. With a student population of barely over 2,000, State was the only four-year institution in the wartime booming San Diego of 1941.
The College had only moved out to its new "Montezuma Mesa" campus site in 1931, overlooking undeveloped Alvarado Canyon and the Waring Ranch to the north (the area later to become Allied Gardens, Del Cerro and San Carlos).
The small state teachers college located on the undeveloped mesa north of U.S.80 (then El Cajon Blvd.) and just west of the La Mesa City limits was only beginning to establish its current role in building regional pride through its athletic programs.
The most successful of these Depression-Era programs was Coach Gross' hoopsters. Gross had been a two-year Aztec letterman under initial State basketball coach, and "men's" gymnasium namesake, C. E. Peterson, during the schools pioneering 1922/23 and 1923/24 seasons.
It was then that Gross learned of pioneering University of Kansas basketball coach "Phog" Allen's revolutionary fast-break offenses and shifting zone defenses while starring for the Aztecs first league championship squads.
Gross became San Diego's basketball coach for the 1929/30 season.
Hodgetts remembered Coach "Morrie" as bringing legitimacy to Aztec athletics. Harry recalled Gross as a handsome man whose good looks and self-confident demeanor would often get him stopped on the street with inquiries as to his being misidentified as a famous movie star or celebrity.
Struggling to build a successful program while waiting for the new campus and gymnasium to be completed, Gross coached his third team, the 1931/32 squad to their first Southern California Intercollegiate Athletic Conference (SCIAC) championship. Conference competition included schools such as Whittier, Occidental, Pomona, LaVerne and Redlands colleges.
Gross' Aztecs also took the crown again in 1933/34. This team featured captain and first team All-Conference center/forward–and future radio/television celebrity–Art Linkletter.
Coach Gross' on-court success was a result of first–his local recruiting prowess.
La Mesan's and East County fans took special notice when Gross tapped Coach Jack Mashin's 1932/33 Grossmont High School Championship team for five key players.
The resulting 1933/34 SDSC Freshmen squad (freshmen were ineligible for varsity sports back then), featuring the former Foothiller stars Byron Lindsley and Linden Burns, finished 19-1 league champions that year. In Lindsley and Burns' senior year of 1936/37 these local boys led the Aztecs to the Conference varsity title again with a record of 18-9.
Gross' other advantage was his use of the latest in basketball strategy. Taking advantage of the 1935 rule change that eliminated a jump ball after each basket, Gross went after smaller, but faster players who could institute his quick-scoring, ball-handling fast-break offense and high pressure, cutting-edge, switching man-to-man defenses.
Another important Gross improvement was the scheduling of tougher competition. Gross would schedule pre-season and non-league games with big-time Pacific Coast Conference (today's Pac-12) schools, local and regional club and military teams as well as barnstorming all-star teams such as the Harlem Globetrotters and Brooklyn Colored Clowns. He believed this experience was essential to creating a competitive and tough squad.
As such at the beginning of the 1938/39 season Gross, who also filled the job of Director of Athletics from 1935 to 1941, announced that the Aztecs would be leaving the SCIAC the following year to join the new California Collegiate Athletic Association (CCAA). The CCAA would include San Diego, San Jose, Fresno and Santa Barbara State for their inaugural 1939/40 season.
The need for tougher competition timed right into Coach Gross' loading up not only the schedule, but with his most talented teams. Led by sophomores Milton "Milky" Phelps, Dick Mitchell and Harry Hodgetts of Hoover High, San Diego High star Bill Patterson and Los Angeles junior college transfers Andy Echle, and Earl Allison, the Aztecs won the Championship during their last SCIAC season. Phelps and Junior Don DeLauer, the number one and two scorers in the league were named All-Conference for the 25-7 squad.
Highlights of this season included an early season sweep of Pacific Coast Conference members UCLA and a victory in the preseason California "State College" tournament—a precursor event to the following year's new state colleges conference.
As Conference champion the Aztecs were invited to basketball pioneer John Naismith's National Association of Intercollegiate Basketball "small college" post-season tournament held in Kansas City.
With slim Depression-era budgets the College's administration voted to allow the basketball team to represent the school at the tournament. Campus organizations were then recruited to help raise funds for the train tickets and travel expenses.
The State College Aztec newspaper reported that the Associated Students and Letterman's Club would lead the fund-raising efforts. Others also chipped in, as local soda fountain operators Clarence and Andy Radequez developed a new ice cream sundae called the "Kansas City Special" whose proceeds would be donated along with the College campus store's offer of candy sale profits.
With the team $450 short of their goal, the San Diego City Council voted to supply the remaining funds to send the community's "basketball envoys" off to their destined success.
The San Diego Union and State College Aztec documented hundreds of cheering fans sending off the Aztecs from the Santa Fe Station for their three-day, two-night excursion to Kansas City.
Coach Gross chose his eight top players to make the trip. As one of four sophomores to make the trip Hodgetts recalled that the team's energetic and entertaining style—along with their photogenic coach made "the team from the little school of the west" the darlings of the Kansas City press.
The "darlings" ran off victories over South Dakota's Aberdeen State, 49-35; East Texas State, 41-35; and Manchester College of Indiana, 49-41 to open the tournament. Injuries to Milky Phelps and Don DeLauer in the Manchester game left the team short-handed.
Gross quickly called back to San Diego to garner funds to cover a $450 plane fair to send out reserve Bill Patterson to join the team for the semi-finals.
Patterson obtained the overnight flight, earning him the nickname "Sky Hawk." With speedy Bill joining the squad the Aztecs clobbered Peru Nebraska's Teachers College 49-29 and headed into the championship game against Southwestern College of Kansas.
The injury-riddled Aztecs fell behind early to the local squad. Yet the team fought back from a ten-point deficit in the final period to pull ahead by a point in the final minute. The Aztec's National Championship dreams would have to wait when Southwestern star Eddie Henshaw sunk a last second basket to seal the victory for the Kansans. Yet by coming so close and with only one senior Letterman, expectations for San Diego State's basketball future were high for the following seasons
Part 2: High Expectations, Stealthy Mascot, Another Near-Miss and a Third-time Championship Charm.
The San Diego State College Aztecs runner-up finish in the 1939 NAIA national tournament made them a clear favorite for the 1939-40 season.
With seven of eight lettermen returning including "Little [school] All-Americans" Milton "Milky" Phelps and Andy Echle, the expectations for the young squad pointed toward a National title.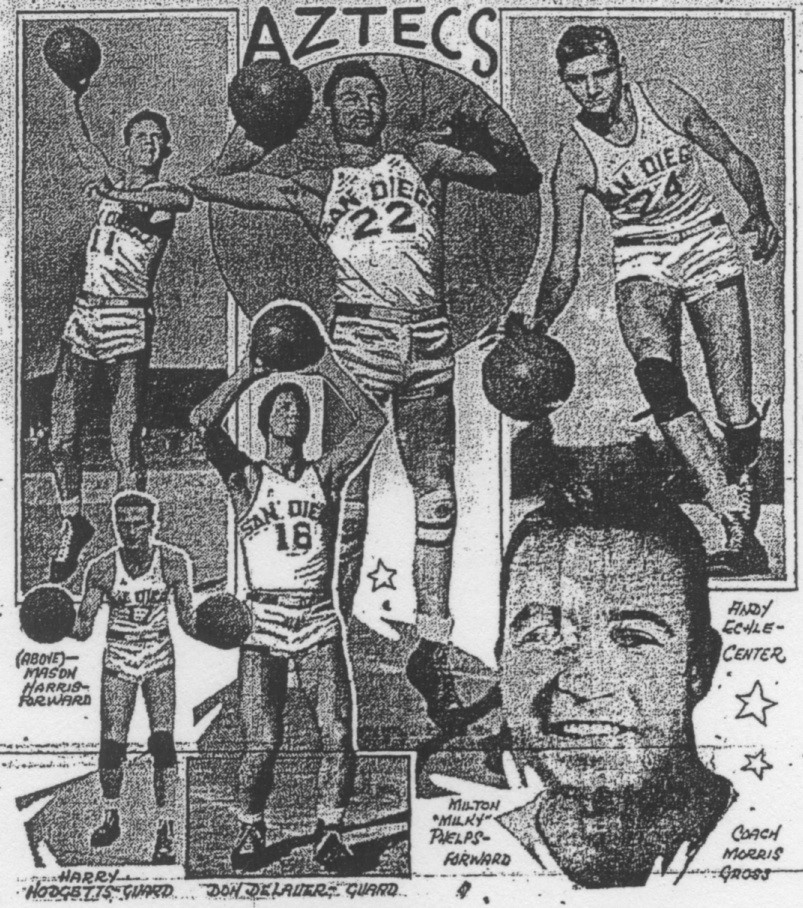 Director of Athletics and head basketball coach, Morris Gross had moved the Aztecs into the new California Collegiate Athletic Association (CCAA) conference featuring the larger California state colleges (Fresno, San Diego, San Jose, and Santa Barbara).
In addition to the tougher league competition Coach Gross also kept up his practice of scheduling top quality non-conference opponents. The Aztecs opened the season with a split of games with Pacific Coast Conference member UCLA. Harry Hodgetts remembering his task of guarding the talented Bruin All-American guard Jackie Robinson (yes, the later major league baseball color-barrier breaking Jackie Robinson).
After two big road wins at Chico State in which Milky Phelps re-established himself as one of the top "sharpshooters" in the country with over 30 points scored (remember, no 3-pointers back then), the squad hit a bump in their road with a disappointing third place finish in the California "State College" pre-season tournament.
In a 1976 interview with David Howard Fontius, Coach Gross recalled his comments to his talented team:
It proved what I had told the boys all year, a team can't always come from behind to win… We must get into the habit of going at top speed from the opening second.
The team apparently responded well to Gross' leadership, winning all of their remaining non-league games except for a two-point loss to California—a game in which three starters were missing due to sickness or injury.
Injuries continued to cause trouble during key league games. Recurring injuries to stars Andy Echle and Milky Phelps saw the team only split with league rival Santa Barbara and finish with two disappointing regular season ending losses to San Jose.
This left the 18-5 Aztecs with a 3-3 league record and third place conference finish.
However their previous year's performance and overall strong record garnered them a return invitation to the 1940 national tournament in Kansas City.
A Spook-y Mascot and Another Near-Miss
Once again the student body helped raise the funds to send the team to Kansas City. Harry Hodgetts clearly remembered the inexpensive, uncomfortable, but memorable two-day, one night train trips.
Harry recalled, "It was a high-speed chair car rather than a sleeper because it was a lot cheaper. The trip took about 34 hours. If you wanted to sleep, you just had to do it sitting up."
But the train trips also inspired the creation of the team's special mascot—"Spook."
Hodgetts recalled that during the 1939 trip the team of young, imaginative, and spunky Aztecs had began to "play mind games" with the train car porters. When the porters asked what kind of mascot the Aztecs kept, the team informed the porters that their mascot was a hairless Mexican Chihuahua dog.
After the porters reminded the team that no animals were allowed on the car, the players would act as if they were "hiding Spook" each time the porters entered. When the exasperated porters inquired further, the team remarked that "Spook" was really there—but since he was invisible could not be found. As such starting with the 1940 trip, the team brought a dog leash and empty harness for "Spook," their ghostly mascot. [2020 Author's Note: The naming of "Spook" appears to some to feed on rampant early 20th Century racial stereotypes as associated with African-Americans. Many train porters of the period were African-American and Hodgetts recalled that some of those "teased" on the trip were African-Americans. It is not included to any way justify such dated stereotypes but as a reference to the team's story in the context of the time. Mr. Hodgetts also admitted to the author in 2011 that "Spook" might not have been appropriate today. I had not included this historic context statement in 2011 but did get some reader comments as to its appropriateness. I take full responsibility for its inclusion].
Spook was just one good luck charm the team used to deal with their own superstitions. Coach Gross reportedly would wear the same suit until a loss, then change to another.
Team manager Paul Fern would rub his lucky 1865 nickel on the heads of the five starters before each game. A report in the State College Aztec noted that the team believed "to fail to do this would invite disaster."
Hodgetts recalled that the Kansas City press still made them a pre-tournament favorite due to their short-height, entertaining fast-break style and scrappy never-say-die effort—and they did not disappoint.
The Aztecs opened with a one-point victory over a tall East Central State of Oklahoma team 36-35. They followed with a last second tip-in by Dick Mitchell to nip Pittsburgh State of Kansas 32-30 in their second game. Against Appalacian State of North Carolina it would take a last second mid-court shot by Milky Phelps to seal the 48-46 victory.
In the semi-final matchup with Delta College of Mississippi, the Aztecs fell seven points down with three minutes to go but rallied to set up Eddie Priesler's last second hook-shot off the boards for a hard-fought 30-28 victory. Unfortuntately, a banged-up Aztec squad full of nagging injuries and a hot-shooting Tarkio State College of Missouri team provided the Owls an early lead. Even an Aztec switch from their scarlet to their white jerseys at half-time could not stop a 52-42 championship game win for the Missourians.
Another near-miss at the National Championship only sealed the team's determination for the following year. Coach Gross and the school held even higher expectations for nothing less than a tournament victory.
Third-Time is the Charm
A SDSC pre-season press brochure predicted that Gross' vision for a National tournament victory in March 1941 would clearly "wind up the greatest season in San Diego State casaba [basketball] history."
The Aztec confidence was led by the fact that the 1940-41 team once again returned seven lettermen. The team also had significant senior leadership with Phelps, Hodgetts, Patterson, Echle, John Sellwood, and Earl Allison along with a new set of transfers and "B" team hopefuls including highly touted Kenny Hale.
Gross once again set up a tough non-league schedule in order to test and challenge his squad. The Aztecs opened with six straight victories over UCLA, New Mexico State, BYU and California before a loss to future basketball hall-of-famer Hank Luisetti's powerful Stanford squad.
Led by All-American Phelps' rapid-fire scoring the Aztecs opened with two league victories over Fresno. However, in the second game Phelps injured his knee and would be forced to miss most of the remaining CCAA league games.
The loss of their two-time All-American resulted in several tough losses as the Aztecs adapted to the absence of Milky's sharpshooting. Still the rest of the team's talent kept them in the race against tough Santa Barbara and San Jose State teams. Yet, the Aztecs were dealt a difficult blow with two tough losses at San Jose to end the season in a three-way tie for the conference crown.
Many Aztec fans were somewhat disappointed in the lost opportunity for the outright CCAA title, especially since Phelps had made his first appearances since his injury in those last two games. An editorial by State College Aztec editor Dick Thomas questioned the expense of sending the squad to Kansas City again—especially with three "crippled [injured] members" and the growing concerns of the "European War" (WWII) capturing headlines in Spring 1941.
Still the NAIB tournament officials invited all three CCAA teams to Kansas City (San Jose voted not to accept). Once again ASB and other campus organizations raised the funds for the trip.
Gross realized that the taxing schedule and disappointment of the season ending losses had taken a toll. He thus gave his team an extra two days off from practice the week prior to leaving for the tournament. The wise coach hoped to give his team some "healing time" to prepare and re-energize.
Gross and his top ten players made the trip, including the still injured Phelps—along with team manager Jack Edwards and "Spook."
San Diego State was scheduled for the 1941 Tournament's opening night "featured" last game against Montana State. The Aztec speed and pressing defense resulted in a solid 46-29 win. Their second game against Culver-Stockton College of Missouri was much tougher. The game ended in a 41-41 tie and it took two baskets from young Kenny Hale, who had become the team's top scorer during Phelps injury-riddled season, and a Harry Hodgetts free throw along with a tight defense to get a 46-41 overtime victory.
Texas Wesleyan, another high-rated opponent, awaited. The game was tight all the way. Andy Echle's 13 points leading the Aztecs. Phelps, still struggling with his injured knee, played only two minutes. Yet his only basket with 22 seconds to go proved to be the game winner in a 44-42 triumph.
The next challenge was a tall one–literally. West Texas State featured a 6'-10" center and a team average height of nearly 6'-6" as being touted as tournament favorites. 6'-4" Andy Echle was San Diego's tallest player followed by 6'-1" Harry Hodgetts and Dick Mitchell. When Echle went down with an injury in the first minute of the game, Mitchell and Hodgetts were left to guard the 6'-10" center Charles Halbert and 6'-6" leading scorer Price Brookfield.
Mitchell's performance is legendary, holding the 6'-10" Halbert to 13 points while scoring 14 himself prior to fouling out (only 4 fouls got you disqualified back then) with two minutes to go. A shaky Andy Echle re-entered for the last two minutes after Mitchell's departure. Hodgetts defensive performance was just as impressive holding Brookfield to 11 points with 3 personal fouls.
Gross' strategy of using his team's quickness paid off as they slowly pulled out to a 22-17 half time lead. Phelps gutty performance in scoring 10 points in reduced, and painful, minutes along with small speedsters Kenny Hale and Bill Patterson's 9 and 7 points kept the "Texas giants" off-balance. Late baskets by Phelps, Hale and Mitchell sealed the stunning 43-40 upset victory.
The Aztecs participation in their third straight championship game may have seemed anti-climatic. Their opponent Murray State of Kentucky was a surprise finalist as well. However the injuries to Phelps, Echle, and a banged-up Dick Mitchell put the result in doubt.
Gutty performances by Phelps (7 points) and Echle (9 points), both wrapped in bandages from their injuries, along with speedy Kenny Hale's 10 points, made up for semi-final game star Dick Mitchell's absence. The scarlet-clad Aztec raced out to a 20-14 half time lead but a 13-minute long scoring drought resulted in Murray State tying the game with 3 ½ minutes left in regulation.
Here it was time for 5'-8" forward Bill Patterson, the team's shortest starter to make his mark on Aztec history. Patterson slipped behind the Racers defense for a layup to pull ahead 30-28. After reserve Jim Ahler made a free throw, Murray's star center Bob Salmons closed the gap to 31-30 with 1:30 left.
It was then that Phelps, the team's best free throw shooter and sure ball-handler, was pressured. He then deftly fed Patterson again to slip through for another basket. Patterson repeated with another basket to give State a 35-30 lead with less than a minute to go. Phelps added a free throw, his fifth of the game. Murray State added two meaningless baskets in the last few seconds, but it was too late as the Aztecs held on for the 36-34 victory—and the National Championship.
Milky Phelps ended the season as the Aztecs leading scorer with 1,043 points in three injury riddled, and pre-shot clock, pre 3-pointer seasons. Phelps and Kenny Hale were named First Team "Little" All-Americans with Dick Mitchell and Harry Hodgetts being named Second Team.
Several thousand fans and students greeted the Aztecs upon their return to the Santa Fe Depot. Phelps exited first with the championship trophy held high. He, followed by the others were then lifted to the shoulders of admirers and carried to the temporary platform for a welcome from San Diego Mayor Percy Benbough, SDSC President Walter Hepner and ASB representative J.O. Miller. Hailed as civic heroes, the Chamber of Commerce honored the Aztec "casaba-men" with a dinner a few nights later.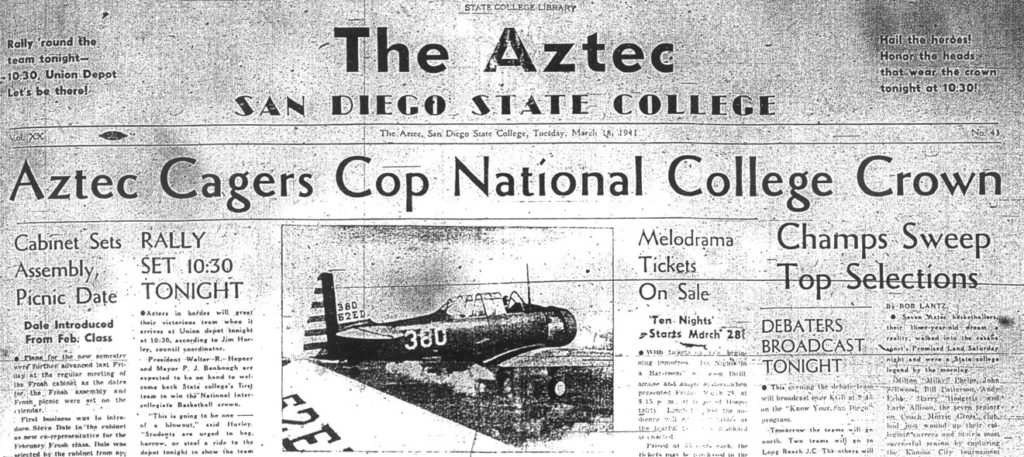 As Harry Hodgetts recalled, the team's glory simmered down rather quickly. The players got back to school but all would soon be focused on the impact of world events that would affect the Class of 1941.
World War II would soon be the Aztecs and United States' focus. All members of the 1940-41 team would end up in military service during the War. Even Coach Gross, who joined the Navy after the 1941-42 season—never to return as SDSC coach.
Only Milton "Milky" Phelps would not return from the War effort. Phelps was killed in a training flight accident in November 1942 as he prepared to become an air force pilot.
The State College Aztec announced his death:
"Milky" Phelps is dead, and with his death passes an age in San Diego State College athletic history. An age in which by the ability and magnetism of one person, another who gave others rise to talents long hidden in them and pulled themselves to unscaled heights.
Within such a context of the national and international tragedy of World War II it is not too surprising that the story of Coach Morrie Gross and his small, but gutty National Champion Aztecs has been lost to many.
But it is a story that needs regular re-telling. Not just for Aztecs, and SDSU fans, but for all who strive to make hard work, determination and overcoming tall challenges the path for making dream's come true.
So, do not lose faith 2019-20 SDSU basketball fans. Coach Dutcher and the Aztecs have set a foundation similar to that of their forebears. The 2019-20 team will not be forgotten either. This year's Aztec basketball team has left incredible memories and demonstrated proof that unwavering efforts in teamwork and self-sacrifice that are the way to victory over any challenge.
Just keep believing—and that next National Championship is still within reach—even if we have other battles to win and sacrifices to make now.
James D. Newland, President
La Mesa History Center
SDSU B.A. '88; M.A. '92