History Roundtable Lecture: Stone Age to Space Age
October 19, 2019
@
10:00 am
–
12:00 pm
PDT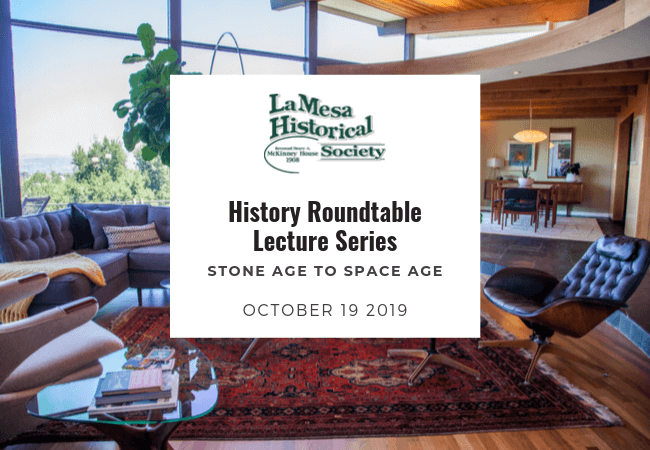 Join us for our Roundtable Lecture: Stone Age to Space Age
Come learn about the homes, the architects and the stories of the 2019 Home Tour as well as the rich architectural heritage of Grossmont/Mt Helix.
Come hear, learn and participate in an unprecedented program featuring the developers, pioneers, and practitioners of Grossmont/Mt. Helix's distinctive architectural heritage.
LMHC President and historian Jim Newland will master the ceremonies and present on the Grossmont and Mt. Helix community development and architectural heritage.
Modern San Diego website host and historian Keith York will then present on the art and architecture of the area including renown artist/designer John Dirks.
Audience members will also be able to query and speak with these scholars. Don't miss this historic opportunity to hear, learn and experience more about Grossmont/Mt. Helix's unique design heritage.
Grossmont Healthcare District Auditorium: 9001 Wakarusa St, La Mesa, California 91942
FREE for LMHC Members, $5 suggested donation from non-members.