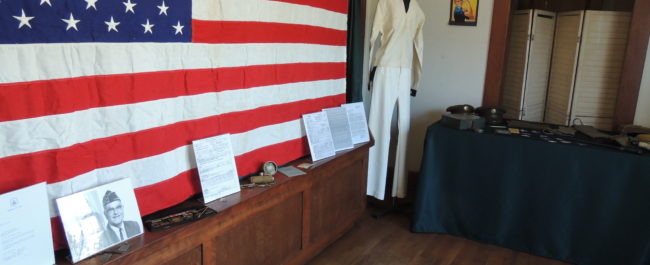 What's New at the McKinney House Museum
Tucked away behind the Palermo Building at the La Mesa History Center is a storage building housing our collection. This building is home to the original records, photographs, maps, paintings, artifacts and an overall treasure trove of memorabilia from La Mesa's past. Each item whether made of metal, fabric, glass, wood or paper helps tell a story of our collective past. Melody Andrews, as the Collections Committee Chair, helps inventory and catalog the object collections and also develop some of the exhibit displays within the McKinney House Museum.
The Rotating Exhibit room, located on the first floor of the McKinney House, is dedicated to highlighting some of these fascinating slices of La Mesa's history. Earlier this year we displayed pieces from our art collection, highlighting artist Mary Garfield, a La Mesa pioneer and the one who's poem helped bestow upon it the title "The Jewel of the Hills."
Currently on display through Labor Day are pieces from our La Mesa Heroes Collection, featuring items formerly belonging to La Mesa service members. There are items once owned by Reuben Levy and Lester Olmstead who fought in World War I and memorabilia from World War II veterans William Beamish and Donald McKinney. It is an honor to display these collections and we are grateful for the invaluable service these men provided our county. Looking ahead, there are a number of stories still begging to be told and later this year there are plans for a La Mesa Hospitals display as well as a display dedicated to Madame Ernestine Schumann-Heink.
We invite you to visit the McKinney House any Saturday between 1 pm and 4 pm (excluding holidays) to experience these stories yourself.