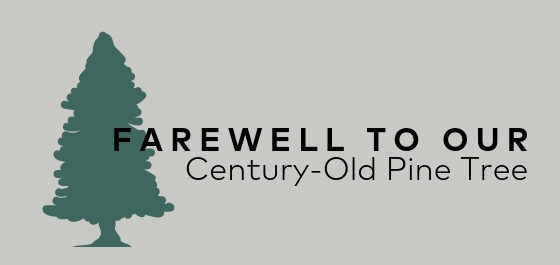 Goodbye To Our Long-Standing Friend: A Special Message From LMHC President
We hope you are enjoying the holiday season, including the rare rain and cool weather. The LMHC Board also hopes you will be attending our traditional McKinney Christmas Open House on Sunday, December 9th from 2:00 pm to 4:00 pm.
Many of you have been sharing concerns and asking regularly about one of our most beloved landmarks, the century-old (103 years) Monterey Pine located at the McKinney House. As reported in our Fall Newsletter, the Board hired an arborist to treat the tree in September after it showed serious signs of deterioration in August (a treatment that had proved successful several years ago). I am sad to report that the tree has subsequently died and will be removed in mid-December.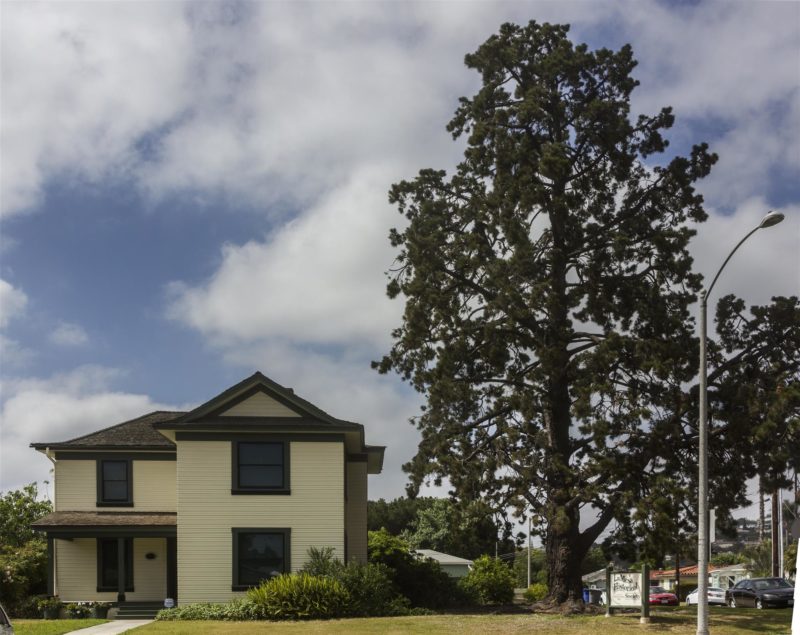 Threats to Historic Trees in Our Region
As a manager for the California State Parks department, I can tell you that the current threats causing massive mortality to all manner of trees statewide are real and serious. Unfortunately, these threats are not just impacting wildlands but urban – and historic – trees as well.
Preservation of historic landscapes, something I've dealt with extensively with State Parks has the inherent recognition that vegetation – one of the most iconic elements of many historic property landscapes – is mortal. It can and will eventually die. Thus, planning for such historic landscape management issues has been on our minds for the last few years (our tree having lived far beyond its typical lifespan).
Plans for LMHC Landscape
Note that the La Mesa History Center is looking to both replace and recognize this iconic tree's place in the McKinney property's history. We have accepted a generous offer from a local craftsman, Brian Pedersen, to use some of the tree's wood for benches and other landscape elements at the McKinney House. These "memorials" to our long-standing friend will be incorporated into our updated landscape plans currently underway. The Landscape Committee hopes to have concept plans for the landscape soon to share and gain input from our membership and community alike.
The Board recognizes that the McKinney House will soon have a very different setting without our old friend, but know that we will do our best to preserve its memory as we re-envision and rehabilitate our city's historic landmark property.
A Final Thank You
We appreciate all the membership and community interest and concerns. Please know that we too will miss our friend as we preserve the McKinney House and move the La Mesa History Center forward.
Thanks again for your interest and support.
Jim Newland
LMHC President