Historic Plaque Walking Tour
July 11, 2017 @ 6:00 pm
PDT
Free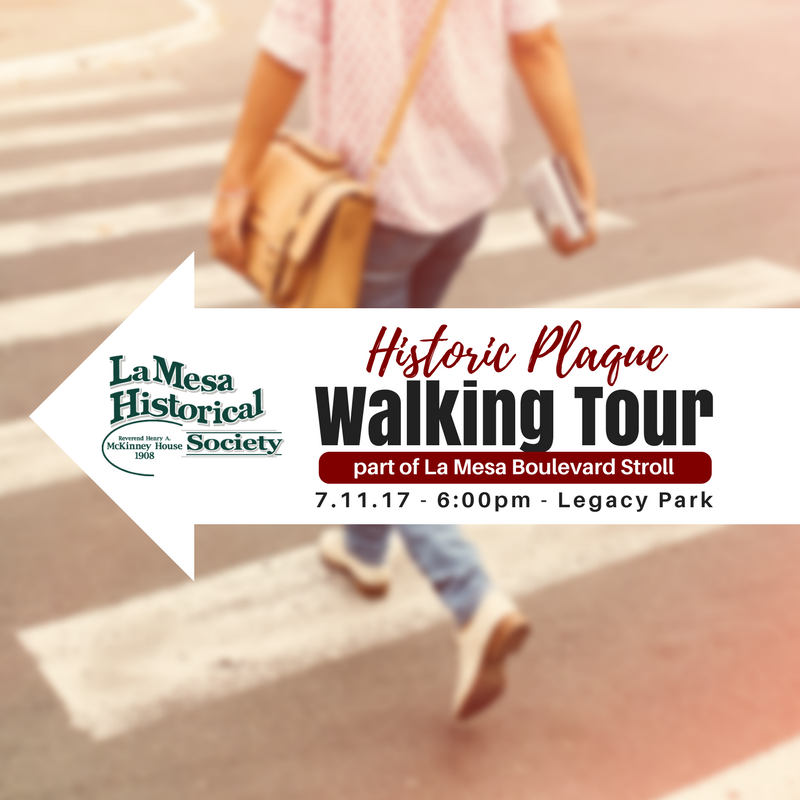 The La Mesa History Center will be guiding a Historic Plaque Walking Tour during the La Mesa Blvd Stroll. The walking tour will be guided by LMHC Past President, Jim Newland and will take you through the 12 historical plaques found around Downtown La Mesa.
Check out the downloadable map (link below) for an overview of where you can find our historical plaques all over Downtown La Mesa.
Map of 12 Historical Plaques in La Mesa
The historical photo plaque program was started as a continued effort to preserving and celebrating our community's rich history. The plaques feature historic images from the La Mesa History Center's collections that are laser-etched onto stainless steel panels that provide crisp reproductions for the public to enjoy when visiting our historic downtown village.
We will be meeting up with LMHC & community members at Legacy Park (corner of La Mesa Blvd & 4th Ave) at 6:00pm.
After the tour stick around and enjoy the luau themed Boulevard Stroll and experience what Downtown La Mesa Village has in store! There will be music and activities for the whole family to enjoy!